Current Offers and Specials
BLACK FRIDAY SALE 2023
For Black Friday and Cyber Monday week will be offering a fantastic deal on our two most popular hammock models.
From November 24th to December 4th you can get 30% off Expedition ZIP and Explorer Deluxe ZIP XL hammocks.
Both of these models are ideal for people breaking into hammock camping as they offer the features our hammocks are famous for at a lower price point, while being dependable enough to use in the most challenging environments on the planet.
---
BRIGHT IDEAS SALE 2023
Thinking about getting away from it all? Here's a bright idea for your gift list. Hammocks are the perfect gift for someone who loves to be outdoors or someone who aspires to a life with more outdoor time. Hennessy Hammock has a wide variety of hammocks for camping, hiking, exploring, and lounging/relaxing/reading at the cottage or in the backyard or dorm room. Our hammock filter tool will help you find the right gift to give your family member, friend or yourself.
Right now, you can enter the coupon code HOLIDAY23 at checkout and receive a 15% discount on all Hennessy hammocks and accessories. With your hammock order, you'll receive free SnakeSkins™ for a stocking stuffer and free shipping for qualifying orders.
We can ship to you or directly to the gift recipient. You'll find not only hammocks on our site but also additional gifts and stocking stuffers such as double-sized rainflies, insulation and other lightweight gear for people who already have a hammock.
With the increased popularity of online shopping, we'd recommend ordering early to insure on-time delivery of your carefully-selected gift. If you need additional information or help choosing, please email info@hennessyhammock.com for more suggestions from the Hennessy Hammock Team.
CHECKOUT DISCOUNT CODE: HOLIDAY23
---
Odds & Ends Sale 2023
Every year in October, we clear out all our demos, seconds and refurbished  hammocks. This is our best odds and ends sale ever - with dozens of new cosmetic seconds which would make great holiday gifts.  This is your chance to shop early and pick up a really great deal by buying direct from us, the manufacturer. We inspect every item at our facility on Galiano Island, Canada.
All items include our regular warranty.
View the list: Odds & Ends
---
FREE Shipping on Orders Over £100
*Offer valid only on orders placed at hennessyhammock.co.uk or at 01 250 539 2930 Monday - Friday, 9am - 4pm Pacific Standard Time.
Offer valid on all orders with a subtotal of £100 or more. Standard shipping rates apply for orders under £100.
---
FREE Longer Webbing Straps When you "Build Your Own"
All Hennessy Hammocks include complimentary 42" long webbing straps that are long enough to go around a 14" diameter tree.
NEW! Now you can get a free upgrade to longer webbing straps when customizing any hammock from our website.  A 72" webbing straps will go around a 24" tree and a 96" strap will go around a 32" tree. You may want a longer strap if you camp where there are really big trees or don't mind carrying the extra weight of longer straps.  Click on the "Build Your Own" button on the hammock product page to upgrade to free 72" or 96" Webbing Straps.
---
FREE SnakeSkins: The Instant Stuff Sack
With the purchase of most hammocks a free set of Snakeskins will automatically be added to your cart.  "SnakeSkins" are a patented instant stuff sack system that collapses your Hennessy Hammock in about 30 seconds. Your shelter never touches the ground, never gets dirty or muddy. It just disappears into two tapering tubes of silnylon which sit gathered on the ropes at each end of the hammock for amazingly quick set up and take down. For use with all Hennessy Hammock models.  The 70 D poly hex fly requires an additional pair of snakeskins because the hex fly is bulkier than the standard rainflies.
---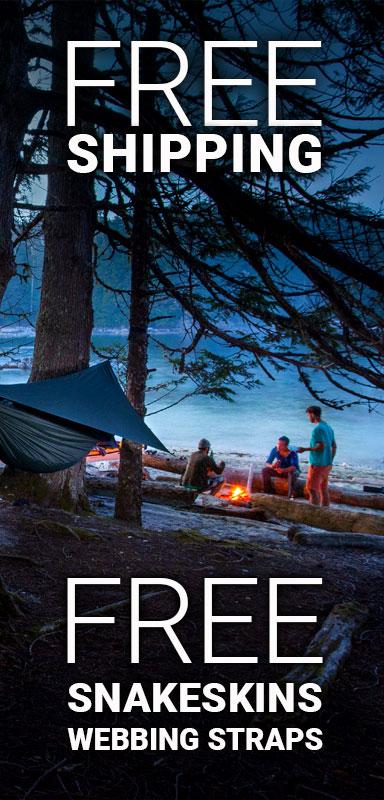 Shop for Gear