Scouting
"One Scout Troop in Pennsylvania has competitions to see who can set up their hammock the fastest. Their troop holds the hammock setup world record at 38 seconds."
Did you know that Sir Robert Baden-Powell, founder of scouting, used a hammock tent about 100 years ago?
Left: water color by Sir Robert Baden-Powell, Founder of Scouting
This is a picture of Sir Robert Baden-Powell's campsite. You can see that he is using a hammock tied between two trees with a tarp thrown over a rope above the hammock. Sir Robert was a visionary, obviously ahead of his time. This watercolor was made about 100 years ago.
Videos
News
Scout Fun with Hennessy Hammocks.
Scout troops all over America are discovering the Hennessy Hammock. One Scout Troop in Pennsylvania has competitions to see who can set up their hammock the fastest. Their troop holds the hammock set-up record at 38 seconds.
Leave No Trace
Leave No Trace, a non-profit organization whose 7 principles of outdoor ethics are rapidly becoming the standard code of conduct on public lands in the US. Partnering not only with the Scouting movement but also with the US Forest Service, Park Service, Fish & Wildlife Service and Bureau of Land Management in every state, LNT teaches people an awareness of their own impact on wilderness areas and shows them how to travel and camp with care.
The Hennessy Hammock is almost zero impact and an excellent example of a "Leave No Trace" shelter. All of our Hennessy Hammock models are provided with complimentary "tree hugger" webbing straps to protect the tender bark of trees.  The smaller the diameter of the tree, the more times the webbing straps go around the tree to spread the load. The environmentally friendly design requires no ground leveling, trenching or staking. When you walk away from your campsite, there will be no tent footprint and almost no evidence that you were ever there.
Hennessy Hammocks at NOAC Conference. 
At the Summer, 2002 National Order of the Arrow Conference in Bloomington, Indiana, the Hennessy Hammock was introduced to 6000 members of the elite Order of the Arrow. There was a lot of interest in the hammock.In August, 2004, Hennessy Hammock was invited to Des Moines, Iowa to participate in the TOAP demonstration area to show Scouts the benefits of using lightweight comfortable hammock shelters and to emphasize the Leave No Trace features of hammock camping. Scouts and leaders who had purchased hammocks at the 2002 conference were eager to tell us how much they had enjoyed using the Hennessy Hammock and why they recommend it to their friends. 
Fund Raising Opportunities for Scouts.
After reading the article in Scouting Magazine, Ohio Troop 476 contacted us about replacing their tents and old hammocks with the newest in hammock technology. They were so pleased with their hammocks and the attention they received wherever they went that they inquired about selling Hennessy Hammocks as a fundraiser for their troop.
After obtaining permission from their district, they began to display and sell hammocks at camporees and events. In addition to raising funds for their troop, they attracted 15 more members and plan attending more events this season with their hammocks.
Partnering with Scouts.
Hennessy Hammock is now working with Scout troops in California, Kansas, Ohio and Florida to provide innovative fund-raisers for troop activities. The Scout at US $99 has been introduced as special new cost-effective option for Scouts. Additional discounts are available for group sales. For details about Scout fundraising and purchasing hammocks, email scouting@hennessyhammock.com.
Letters
Hello Tom:
Just wanted to share a couple of pictures with you. Boy scout troop91 in PA is sold on Hennessy. We geared up with them for a High Adventure trek in Goshen Virginia.
Photos are of a shakedown trip along the Appalachian Trail in PA at a somewhat crowded shelter. As you can see we didn't use any "prime" tent space!Thank you for a wonderful product with great customer service. Keep up thegood work, we'll be back!
Neil Howett ASM, BSA Troop 91
---
 Hi guys, thought that I should email you because your hammocks are great! I am a 13 year old scout and army cadet in Hampshire, England and I used to sleep in a £30/$60-$70 tent but decided to buy one of the hammocks. I am quite an experienced camper (don't let the age fool you) and it the hennessy beats enything I have ever used! Not long ago, I did a survival camp with my scout troup, and while the other guys setup their tents/ponchos I tied my hammock to a tree, and setup my fire. No-one else knew how I was going to sleep ( the hammock was in the snakeskins) and so it got to about 10 o'clock, I had finished eating, the fire was nearly out, I setup the hammock and was fast asleep before I knew it!
Great bit of kit, take it everywhere, can't beat it.
Harry
---
Howdy!
Just a quick note to let y'all know how much I love my HH! Thanks for a superb product. I'm a retired Master Sergeant of Marines and have been a Scout leader for about 10 years now. I've had my Expedition A-Sym with snakeskins for a couple years now and use it every chance I get! Sometimes hang it in the backyard just to enjoy a night under the stars. I have had back problems for years and I'm a firm believer that a night in a hammock is better than a night on the ground anytime. I've never woken up with a sore back after a night hanging in the trees! Bought a Scout model for my wife and my once skeptical lovely bride is now a convert! Also, showed my HH to a friend (Retired Navy Commander and Boy Scout Leader) who ordered one the next day and now swears by it! And finally, one of my Scouts insisted his mom buy him one for his birthday. Next I need to invest in the undercover for myself as it would certainly be lighter and easier to pack than a heavier sleeping bag.
Thanks again!
Semper Fidelis, Chuck Roberts
Master Sergeant
US Marine Corps (Retired)
Assistant Scoutmaster
Boy Scout Troop 743
Hubert NC
---
Hello Tom,The Boy Scouts of America National Jamboree of 2005 is now complete. The Troop 364 Merit Badge Booth for Backpacking, Camping, Cooking and Hiking was an extreme success and that is largely due to your contribution of equipment. Thank you for your support!
COL. Stepehn D. Kreider
---

photo credit: Rick Hammond, Cub Master, Pack 82, Portsmouth, RI
Ft Adams Fall Camporee, October, 2006 
(don't try this at home unless you really know what you're doing!)
Here is a photo of the HH setup on Ft Adams (Newport RI) center field during the Fall Camporee Oct 13th. We ended up using some 6' T-bar fence posts, light chain and large tent pegs to use the HHs on the open field. Setup worked pretty good and now we have 4 sets for any future car camping event we do with the scouts. If we had one large tree we could set them up in a star pattern using the tree and one post for each hammock. 
The fence post kits for each hammock uses two each of the following parts 1 6' Tbar fence post, 15' of #3 chain, 1 shackle, 4 quick links and 2 large tent pegs. We drilled a 1/4" hole 1 1/2" from the top of the post, mounted the shackle, used the quick links to connect and adjust the chain to the shackle and the tent pegs. The trick was to balance the hammock rope/chain angle and tension so that the post sees only compression vs bending loads. With all the right angles we could have used a much thinner (and lighter) fence post. I hope to modify the design to work with 1" EMT (electrical metal tube). The chain and quick links replace an earlier prototype using ropes as the chains and quick links were easily adjustable and didn't stretch (and entering the hammock didn't bend the posts).Thanks for a great product. I have an Exp Asym and a Scout. I have just taken the Asym w/ the Hex Fly on a recent BSA OLS training weekend in late Oct where it got cold and rained all weekend long with heavy winds. Had a river running under my hammock but stayed warm and dry swaying in the breeze while the rest of the patrol got cold and wet. Also took the Asym on an overnighter on Nov 4th where the temp dropped to 22degF. A 20deg mummy bag and several layers of fleece below made the night nippy but bearable. Just ordered the Super Shelter, Snake Skins and another Scout. I am quite impressed with your product, a nice balance of form and function. I find the hammock easier on my back as well as smaller, lighter and dryer than any tent I have slept in. The tailorable combination of the Asym, Hex Fly and Super Shelter allows one to pick the shelter necessary for the season and weather of almost any camping trip and it all packs up tight in the backpack. The Hex Fly also makes a good light weight shelter for keeping your gear dry when you are in the hammock.
George Nichols
---
 Letter from Scoutmaster.
Tom - just a quick note about demonstrating the hammocks at our spring Boy Scout District camporee. Here in the Midwest the spring can bring in just about any kind of weather, this year's edition was wet and soppy. We arrived at the designated campsite where there was 2-3 inches of standing water everywhere. As everyone looked in vain for any hope of high ground, no chance, I walked to two likely trees, tied off my new Expedition A-Sym and unloaded my gear into the dry hammock.
All the leaders looked on with a slight amount of envy. In the morning when I crawled out fully rested I found I did not need my usual morning routine of two Advil's and a cup of coffee to get going. I had no aches or pains from those missed rocks or logs that I usually sleep on. The venture patrol in our troop is awaiting the order of hammocks for the troop. I think it will provide a great incentive to the older boys to get to move up from wallowing in the tent to comfort in the trees.Thanks for a great product! 
R McD
---
 "It all started a long time ago when I heard that we were going on a backpacking trip with my scout troop and I decided that I should get a tent. I looked all over the internet until I saw a site with minimalist shelters. I assumed that meant they were cheap, and took a look. I couldn't have been more wrong about that( That was the first time I had seen a 200 dollar tarp!). However I noticed the hammock. It looked interesting. I clicked on the link. I really wanted one now. The scout model seemed appropriate. I worked all the school year until I could pay for it. When the package came, I immediately set it up in the back yard. I loved it. Then came the backpacking trip. We had come to the camp site. But there was no tent space for me! The scoutmaster asked where I would set my tent up. I casually pointed to ground so covered in roots, you could barely see the ground, and it was at a 45 degree incline, while one kid was complaining because he was on a spot with a .5 degree incline. " Are you sure?" he questioned. "Yeah" I replied. Once I had set up my hammock everyone was asking questions. Is it comfortable? How do you get in? Where do you get it? And most frequently, what do you do above the tree line? Of course, the next morning, they had fun waking me up by swinging me back and forth but I didn't care because I was sleeping in the coolest tent in the world.
Robert Curran
Reviews
American Scouting Digest - Gear Review, June, 2003
by Charlie Thorpe
The Scouts call it "sleeping in a bat cave"...but I call it a really good night's sleep! The Hennessy Hammmock (HH) is one of the most interesting outdoor gear innovations to come along in my almost four decades of Scouting.
I have done a lot of backpacking both in and out of Scouting - my ears really perked up when it was suggested by other distance hikers that a HH and a lightweight quilt could be a complete and very comfortable sleeping/shelter "system" (equivalent to tent, sleeping bag and ground cloth) weighing well under three pounds.

I had the great fortune to be involved with the "American Frontiers: A Public Land Journey" project last summer and fall. I spent two delightful months living in different HH models while travelling backcountry roads, trails, rivers, and 4WD tracks from Glacier National Park down to Salt Lake City. The HH worked exceedingly well for our group; so well in fact that I started wondering how it might work for a Scouting outdoor program.
First let's looks at some of the pros of the HH used in a Scouting context:
very lightweight and compact while being sturdy

very comfortable to sleep in and use as a camp chair and lounger

good rain and wind protection when pitched correctly

easy to set up when there are plenty of trees

fairly easy to set up even with no trees

gets us up away from the ground critters, rocks, mud, etc.

allow pitching on uneven ground(even hillsides!)

allows good ventilation while giving good bug protection
as an individual shelter with good personal privacy, it should meet even the most stringent Youth Protection and G2SS guidelines

not too pricey for what you get(group discounts and fundraising potential)
And some cons:
it is an individual shelter(some Troops depend on larger tents and/or other shelters to help build Patrol teams)

most pitches require fairly long side guy lines that can cause tripping when young ones start running through camp

even with the provided tree-saving straps, it is still fairly easy to damage a tree with a really careless pitch or by excessive swinging back and forth

it is possible to pitch a HH in a location so fragile than unusual damage can be done even when careful(very steep hill side, fragile veggies, riparian area, etc.)

special techniques are required to comfortably use any hammock in cold temps

learning how to change clothes while lying down in a fairly confined shelter can be an interesting challenge
Troops preferring to use group gear for their younger Scouts might want to evaluate the HH for their older youths and adults. Units using static camps might want to consider how easily posts could be set to accommodate any number of HHs. Venturing crews might be interested in how well HHs can work in a coed setting. Groups highly experienced in the outdoors might be interested in the HH as part of a high-end lightweight trekking program. Of course, any of us could get one for ourselves and then have fun playing with a neat piece of modern camping gear. Don't worry too much about this modern technology getting us too far away from traditional Scouting. Sir Robert Baden-Powell enjoyed using a somewhat similar rig called an 'Ashanti hammock' in the 1880's...
---
Boy's Life Magazine
ASK THE GEAR GUY
Hennessy Hammock any good?
"Q. I have heard about the Hennessy Hammock and it sounds like it is a very good hammock, but is it as good as it sounds?"
"A. Like you, I too had heard about the Hennessy Hammock but I'd never used one myself..."  
conclusion:
"So, is the Hennessy Hammock as good as it sounds? I'd say: yep. The hammock itself seems durable, it's easy to set up, and I can attest to the supreme comfort of hammock camping. The Hennessy is also ultralight compared to most backpacking tents and at $140, more affordable too. Sure, there are some situations when pitching a hammock is tough (no trees) but in many wilderness situations the Hennessy would make a great shelter choice."
---
 Hennessy Hammocks were also featured in Scouting Magazine in Spring 2002.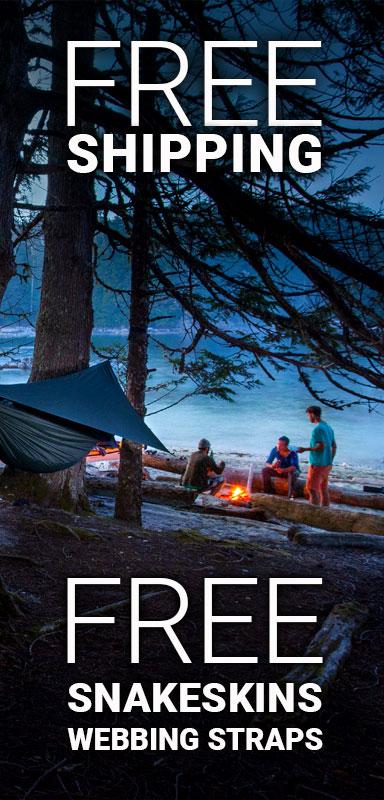 Shop for Gear