Warranty and Repairs
The Hennessy Hammock Warranty
With proper care, our hammocks will last for many years. 
Our hammocks are guaranteed against defects in materials and workmanship for one year. Damage due to wear and tear can be repaired for a reasonable charge.  Check your hammock stuff sack for weight limit and remember that our hammocks are guaranteed for use by one person.   Note:  we cannot offer warranty protection to hammocks that have after-market modifications such as zippers, rope changes, ridgeline changes or installation of any devices for quick tensioning which can cause damage to the suspending ropes by point-loading. 
Our Customer Satisfaction guarantee applies to gifts, too! We suggest that the lucky recipient try out their hammock within 2 weeks of receipt. If they want to exchange or return it, they can email us or contact us by phone.
When you receive your hammock
When you receive your hammock, please remove it from the package, set it up, inspect it to ensure that it is complete and test it for suitability. Please retain your receipt. If there is any questions, please contact us within 10 days of receipt of your hammock.
Repairs, Returns and Exchanges
All hammocks must be accompanied by a return/repair form which we will send to you by fax or email. If you have a concern about your hammock, call us first at 1 888 539 2930 or 250 539 2930 or email us at info@hennessyhammock.com so we can send you a return form which includes a shipping label at the bottom of the form.   Please inquire for the repair time frame when you arrange the return shipment with a Hennessy Hammock representative by phone or email.
VERY IMPORTANT!    All packages must be marked "RETURN FOR REPAIR" in large, bold letters on the outside of the package.
                                     (Use the shipping label on the return form.)
TO AVOID DELAYS, PLEASE SEND BY POSTAL MAIL FROM YOUR LOCAL POST OFFICE.  
DO NOT USE FED EX OR UPS OR ANY COURIER SERVICE AS IT WILL RESULT IN A $40 CHARGE FROM CANADIAN CUSTOMS.
If you have discussed your problem with us, and we advise you to return the product to us, then ship your item to:
Hennessy Hammock
637 Southwind Road
Galiano Island, BC V0N 1P0
CANADA
Phone (USA & Canada): (888) 539-2930
Phone (outside USA & Canada): (250) 539-5390
Fax: (250) 539-5390
Email: info@hennessyhammock.com
Mail: 637 Southwind Road, Galiano Island BC  V0N 1P0, Canada
Customer Service Letters
Ann and everyone, Thanks for the upgrade and great customer service. I have never dealt with anyone with this level of service. You have won a customer for life. I will make sure to let all of my hiking and backpacking friends know. Have a great holiday season!

Tom
---
9/5/09 I just got off the phone with Tom Hennessy who could teach the corporate world how to improve any type of business. PROVIDE WORLD CLASS CUSTOMER SERVICE. This small company does what few others do. You call with a question and you get a person (in this case the owner) who not only knows the answer but is willing to take as much time as is necessary to make the answer clear . You can't get better customer service than that anywhere. And you are never asked for a credit card number. It doesn't get any better than that.
Coop Cooper
Sequim. WA
---
I just want to say thank you! I looked and looked for a Hennessy Hammock for my boyfriends birthday and finally found the ones I wanted on your site. I talked to someone twice on the phone and it was very helpful and easy.
I was so excited to get them, I met the UPS guy at my door before he even got to the porch and my hands were shaking as I was opening them. They are amazing and I couldnt be happier!..I think my boyfriend about passed out when he opened them..he has been talking about them for months.
Thank you,
K K
---
I recently purchased the Safari for my husband's birthday. I wanted to thank you for adding the message to the box and having it here on his birthday. I will definitely tell everyone what great service you provided and recommend your company to others in the future. I can honestly say that it is rare that I am suprised by customer service. You obviously have great employees at your facility.
Thank you,
Laura Vice
---
I would like to add that you are a top notch customer service based company. You do not get personal emails from a lot of companies out there, especially one's that are personalized and not a form email. Believe me, everyone that has a need for a camping/hiking item like this, there is only one that I will recommend, and that is yours. ...Shawn Smith
Tom, I am the guy that woke you up Monday morning with a call on your 800 number. I wanted a Safari by Friday. You sent it over the border Tuesday and shipped it. I slept in it last night. WHAT A GUY! What a hammock! Thanks a million.
That is how you warrant success. I will tell the story.
Tony
---
To Tom and all the crew at Hennessy's,
Thanks for sending out the replacement fly so promptly. As you may have seen, I am living in the Solomon Islands at the moment and the mail here can be, at best, dodgy, so I was highly surprised when the new fly arrived within two and a half weeks of my contacting you. Especially when I am still waiting for mail from my family in Australia which is taking anything up to four or five weeks to arrive. Maybe I should get them to send all my mail to you and you could forward it on.
At least I would receive it sometime in the same century. Anyway, I got to use the fly and my hammock last night and it was so nice.
The location where I am living is right on the beach and there was a nice tropical breeze coming in off the ocean and was certainly cooler than being in the tent all night. As it does here in the Solomon Islands, it rained heavily overnight. I immediately, out of habit reached around inside to see if there were any wet areas. Dry as a bone and I still had a great view of the ships out in the bay.
I spent some of the morning, using the hammock as a seat and a lazyboy,
with the fly forming a shade. How versatile is that. Enough rambling. Thanks for your prompt service and no-questions asked back up of what is a great product. I've had quite a lot of attention from some of the other guys over here so don't be surprised if you get more orders from Down Under.
Can't wait myself to get home and test it out with what Australia has to offer.
Cheers
Paul
---
I purchased two hammocks a few months ago and finally got to use them this weekend with my son on a short camping trip.  They slept awesome.  My 9 year old son slept for 11 hours straight in 20 degree weather.  This evening I wrote an email to Hennessey telling them about an issue I had with the ridge line. (most likely user error on my part.) About an hour ago I received a support call from none other than the owner himself Mr Tom Hennessey who walked me through the issue.  Being a business owner myself I was very impressed with the "above and beyond" responsiveness.  Good customer support tells you a lot about the product and the company that stands behind it.  I teach emergency preparedness, bush craft, and survival classes where I recommend and demonstrate certain products  You can be assured I will spread the word on this great product and company.

Mark Guffey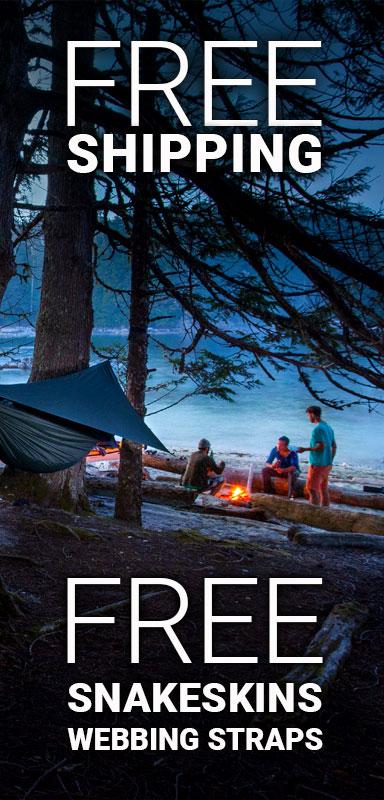 Shop for Gear