Set up on the Ground

Photo courtesy of "Riding the Spine"
With any pair of hiking poles or a couple of sticks, the Hennessy Hammock is now a tent. While I had not intended it to be used on the ground, I saw it used this way at "Trail Days" in Damascus Va. in the spring of 2001.
It was dark. The guy was asleep and he was gone in the morning, so I never got a chance to check it out.
Recently I was at the ALDHA West "Gathering" and an experienced long distance hiker asked "What about above the tree line?"  So we borrowed a pair of hiking poles and in a very few minutes it was up. It looked pretty cool as a tent. The hammock sat on the ground like a little boat with the fly and ridge line about two feet above it.
When used this way it requires a vapor barrier under the fabric and similar padding as a tent. The separate removable rain fly is an improvement over conventional bivi sacs.  This experiment proves that the Hennessy Hammock can be a viable shelter system above and below the tree line on just about anything except solid rock.
Here is also a great Demo Video sent in from Chris Odom:
Letters
Hello, I just wanted to share with you some pictures I took of how I used my hammock to camp out in the Colorado high desert. This is from my bicycle adventures this summer. I traveled down the west coast and then across the U.S. corner to corner. The hammock worked great except for at the beginning and the end when it was very cold.
Dan Rudmin

(Editor's Note: Thanks, Dan, for these great photos showing your ingenious set up of the hammock as a bivy using your bike as a stabilizer. If you had had our Supershelter, you would have been cozy all the time!)
Hi, I was recently reading your page showing hennessy hammocks used as a tent. It says they can be set up almost anywhere but solid rock... fyi using hexes and cams I have set mine up in rock with enough creativity and patience you can turn a hennessy hammock into a shelter anywhere.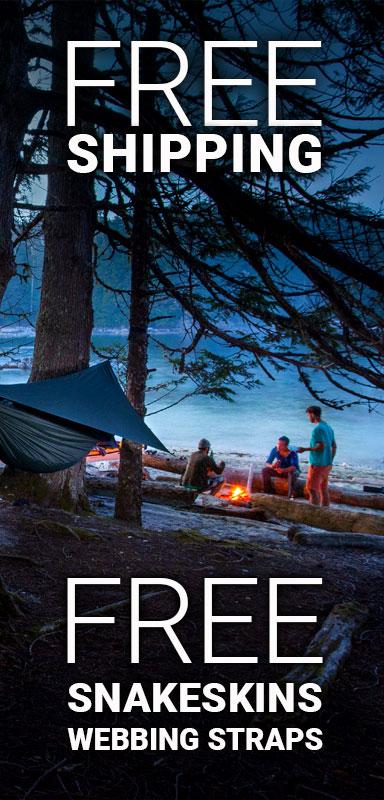 Shop for Gear