Who Uses Hennessy Hammocks?
At first, we thought that the Hennessy Hammock was just an alternative to tents for campers and hikers. Then we started getting calls from scientific expeditions and disaster relief workers and smoke jumpers. A construction crew building condos in Kauai that couldn't afford the tourist rates for accommodation set up a hobo camp in the jungle close to their jobsite.
Adventurers have broken Guinness records taking Hennessy Hammocks on epic journeys down the longest rivers in the world. As you'll see below the list of "Who Uses" is almost endless and keeps growing.
Ultralight Backpacking - The goal of Hennessy Hammock is to produce the lightest, most comfortable camping hammocks on the market. When travelling ultralight and every ounce counts, Hennessy Hammocks are an excellent choice.
Adventure Racing - Let's dream up the ideal shelter for adventure racing. Beyond offering protection from wind, rain, and bugs, it should be light and pack small. It should deploy and collapse quickly, let's say under a minute. Let's also make it pitch without using any poles or pegs.
Cycling - A Hennessy Hammock is a touring cyclist's dream accommodation, it will fit inside a pannier -- and quick to set up and take down at the end of a long day's ride.
Motorcycling - The great thing about motorcycles and Hennessy Hammocks is that they both encourage spontaneity and adventure. Whether you are planning a trip from Alaska to Tierra Del Fuego or just a day's ride, you can take off knowing that you always have a comfortable shelter with you.
Kayaking - The Hennessy Hammock is a versatile piece of gear and its compact size makes it reasonable to carry on a paddling trip. If you get stuck you will have a comfortable bivouac or place to retreat from insects and nasty weather.
Big and Tall - Clothing comes in different sizes so why not hammocks? Hennessy Hammock has a complete line of hammocks up to 350 lbs. and 7 feet tall.
Injury & Arthritis - The Hennessy Hammock is so comfortable that many back-pain sufferers use them at home for resting without discomfort. Pressure is taken off the joints as you float off to sleep — many people tell us their hammock is even more comfortable than their expensive mattress at home.
Scouting - Scout troops all over America are discovering the Hennessy Hammock. One Scout Troop in Pennsylvania has competitions to see who can set up their hammock the fastest. Their troop holds the hammock set-up record at 38 seconds.
Soldiers - – "This is another of those rare, 'well, it's about time; why didn't I think of that? masterpieces of functional design…'" Don McLean, Soldier of Fortune Magazine
Fishing & Hunting - Hunters see the value of a lightweight hammock, that, after setting up a base camp, can be used to go further into the bush to establish a secondary campsite each night so that they can be exactly where they want to be at first light.
Disaster Relief and SAR -- Our lightweight hammocks with mosquito net and rain fly have been used all over the world in places such as Haiti, New Orleans after Hurricane Katrina, and Banda Aceh in Indonesia. We also receive letters from smoke jumpers and SAR personnel telling us how important their hammock is as part of their kit.
Emergency Preparedness - With all the tornadoes, earthquakes and floods that seem to be happening every time we watch the news, knowing that you have a dry, bug-proof, sheltered bed that can be tied up above the ground anywhere there are trees, vehicles or fence posts provides a level of safety and security not found in tents on the ground
Scientific Exploration - When you're in remote areas or extreme environments, dependability in your equipment can make or break your expedition.
Medical Expeditions - "It was a gruelling four weeks – we were often on the move and spending long days running the clinics, teaching and trekking. The hammock systems were amazing – perfect for use in the jungle or in the village longhouses."
The goal of Hennessy Hammock is to produce the lightest, most comfortable camping hammocks on the market. Hennessy Hammocks are built with the highest quality materials including the lightest, strongest, most tightly-woven fabrics available. [READ MORE]
 After years of training, adventure racers travel to the most remote and treacherous environments in the world for a fast paced challenge that tests them to the limit.  Sleep comes in small doses.  Racers need a comfortable, ultralightweight, easy to deploy shelter that keeps them secure from deadly disease-bearing insects over muddy and rocky terrain.  Hennessy's ultralight and hyperlight models have no metal parts, can be used as a tent as well as a hammock and, with snakeskins, can be pitched in a moment.
A Hennessy Hammock is a touring cyclist's dream accommodation: ultra lightweight, compact -- it will fit inside a pannier -- and quick to set up and take down at the end of a long day's ride. Cyclists will also appreciate the comfort of a Hennessy Hammock, as it is easy on the back and legs.
Whether you are planning a trip from Alaska to Tierra Del Fuego, going around the World, or kept in a pannier for "just-in-case" campouts, You can take off knowing that you always have a comfortable shelter with you when you decide to stop for the night.  It packs down to the size of a loaf of bread and the low key colors make it possible to camp unobtrusively. A hex fly is recommended to provide shelter for your bike as well as your hammock.
 Easy to pack, easy to store in a dry bag and fast to set up on rocky shores or muddy riverbanks, Hennessy Hammocks provide not only overnight shelter as a hammock or tent but also a quickly pitched hanging chair or lounger.
 Deluxe and XL Hennessy Hammock models suit people up to 300-350 lbs and 7 ft tall.  The asym shape provides more shoulder room as well as a flatter bed for a good night's rest.  There's plenty of room for you, your gear, and even your dog!  The Safari Zip and Jungle Safari models are also popular with cozy couples.
 If you thought your camping days were over because of back pain or mobility issues, a Hennessy Hammock will get you back on the trail.  The classic bottom-entry is especially stable and easy to enter and exit.  Many people sleep in them at home because they are more comfortable than their expensive mattresses.
Scouts all over the world are using Hennessy Hammocks on outings and at jamborees and gatherings.  With a wide range of prices and styles, there is a hammock for any kid, ensuring a good night's sleep in a personal shelter than offers security an comfort in any environment.
The military jungle hammock has been part of soldiering for decades.  Now the traditional heavy and backbreaking canvas model of old has been replaced by the compact and lightweight Hennessy which comes in a range of neutral colors, sizes and weights.  Soldiers need to sleep where and when they can and a Hennessy Hammock is fast to set up in a variety of environments providing instant comfort.
Fishers and hunters often have to wait patiently for long periods of time in remote, wooded locations so what better than a hammock that is light, easily packed, low-key in appearance, mosquito-resistant and very comfortable?  Perfect for base camp or for excursions further into the bush, these hammocks will get you up off the cold, hard ground forever.
 Smoke jumpers, SAR personnel and first responders have reported that they keep a Hennessy Hammock in their go bag for deployment to manmade and natural disaster zones because of the ease of setup, packability, privacy and comfort so essential during their stressful and exhausting missions.
 Family safety and readiness are major sources of anxiety in these times of extreme weather events.  A well-planned emergency kit is a new life essential.  Hennessy Hammocks are a compact and easy-to-carry shelter that can be carried by each family member.
From Ed Stafford, the first man to walk the Amazon, to cave explorers who venture to the depths of the earth, explorers have carried the Hennessy Hammock to all corners of the world.  They need a serious piece of gear that is sturdy, lightweight and reliable as well as comfortable and secure.  Many of their suggestions have been incorporated into the evolution of the Hennessy Hammock design.
Volunteers travel to extreme environments to bring their medical knowledge to remote areas where malarial mosquitoes, extreme weather, and challenging conditions have to be overcome so that they can achieve their goals of providing medical or dental care or improving water systems while on the move and meeting unexpected hardships.  The Hennessy Hammock is a vital part of their equipment.
Cold Weather Camping
Always test your gear close to home before you start out on your trip, especially if you're setting out for some cold weather camping. You need to know how every piece of gear will contribute to your comfort.
[READ MORE]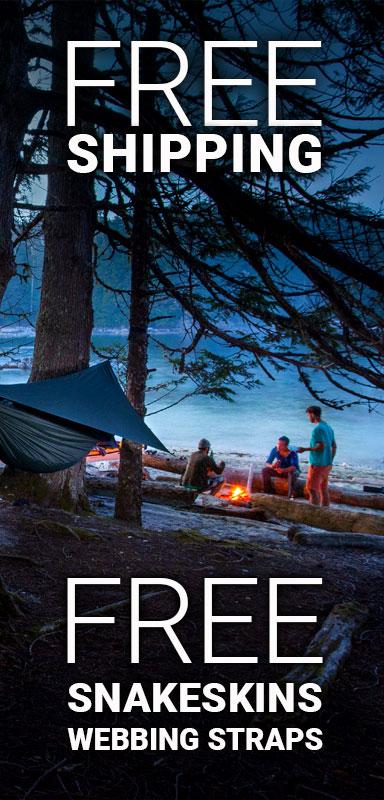 Shop for Gear