Photo Contest
Hennessy Hammock Photo Contest
WINNERS
Updated June 30th, 2018
We have finally picked our photo contest winners. Thanks to all who entered. We have had delays in finishing our new website. We have gone ahead and picked the photos we plan to use in the future on our website.
Our Grand Prize draw Winner, chosen from all entrants is:
   -Colin Jessome camping in Burnt Island, Algonquin Park
We also have five $300 Prizes in Hennessy hammock Gear for photo these contest winners:
   -Michael Thomas at Hells Bay Chickee in the Everglades National Park
   -Knut Sorby on  Lake Nöklevann in Oslo, Norway
   -Peter Campbell on the Gasperaux River in Nova Scotia
   -Sean Doucet in Kauai, HI
  -Coy Starnes in Fiery Gizzard TN
Keep an eye out and we will post these wonderful photos to social media over the next few weeks. Also do look out for them eventually to be used on our website.
TERMS
CONTEST CLOSED - Thanks for all the entries!
PAST DETAILS:
Submit your photos for a chance to win great prizes from Hennessy Hammock! We are looking for photos of our products 'out in the wild'. If you have a neat photo of you or your crew enjoying a Hennessy Hammock, we want to see it!  Everyone who enters a photo will be entered to win the Grand Prize of a Free hammock system of your choice, complete with Insulation and accessories if we use the photo.
We will also be giving away limited number prizes of $300 in Hennessy store credit(No Cash Value) to those who submit photos we feature on our new website(this does not include use on social media).  Photos must have people included in interesting locations along with a few comments or a story to share.
Contest Closes April 1st.
FOR ANY ADDITIONAL INFORMATION CONTACT
CONTEST CLOSED - For questions email: photocontest@hennessyhammock.com
By Phone: 1-888-539-2930 or 250-539-2930 (Mon-Fri 9-4 PST) in North America, International 250 539 2930
TO ENTER
User Submissions will be accepted by email. To be eligible for the contest, all submissions must contain one or all of the following: the entrant's name, instagram handle or an alias you want to use as well as a caption describing the location and context of the photo.
CONTEST CLOSED - For questions email
:
photocontest@hennessyhammock.com
ELIGIBILITY - WHO MAY ENTER
Anyone over the age of 18 with a photo of their hammock in use is invited to enter. By entering, all entrants permit Hennessy Hammock to use the collected information (first name, and photo(s) submitted) from the Contest for marketing and advertising purposes, including repurposing the entry as online content.  The entrant must have full permission of any recognizable persons appearing in the photograph to be able to grant to Hennessy Hammock the right to display their photographic submission online or in printed material.
Submitted photographs must be original material taken by the Contest entrant. By entering the Contest, the entrant represents, acknowledges, and warrants that the submitted photograph is an original work created solely by the entrant, that the photograph does not infringe on the copyrights, trademarks, moral rights, rights of privacy/publicity or intellectual property rights of any person or entity, and that no other party has any right, title, claim, or interest in the photograph.
IMAGE QUALITY
Image Resolution
Entries must have a resolution of 5 million pixels or greater. For reference, the iPhone 5s takes photos at about 3200x2500 pixels, i.e., 8 million pixels. Images that do not meet the minimum resolution will not be eligible.
PRIZES
Winners' photos will be displayed on the Hennessy Hammock website and social media accounts. A limited number of winners who get featured on are new website will also receive $300 in Hennessy Store Credit(No Cash Value).
All Submitters will be entered to win the Grand Prize of a Free hammock system of your choice, complete with Insulation and accessories.
PRIZE DISCLAIMER
All Prizes must be accepted as awarded, without substitutions or transfers, and cannot be converted to cash. The value can only be applied to Hennessy branded products. This excludes Evernew and HMG items.
TO CLAIM PRIZE
Finalists will be notified by e-mail and/or phone. The grand prize draw will take place on April 1st. Any submitted photo's that are considered for use by us will be contacted before we use them.
LEGAL
LICENSE
By entering the Contest, all entrants grant an irrevocable, perpetual, worldwide non-exclusive license to Hennessy Hammock, to reproduce, distribute, display and create derivative works of the entries (along with a name credit) in connection with the Contest and promotion of Hennessy Hammock, in any media now or hereafter known, including, but not limited to: publication in promotional material or online.  Hennessy Hammock  will not be required to pay any additional consideration or seek any additional approval in connection with such use. Additionally, by entering, each entrant grants to Hennessy Hammock the unrestricted right to use all statements made in connection with the Contest, and pictures or likenesses of Contest entrants, or choose not to do so, at their sole discretion. Hennessy Hammock will not be required to pay any additional consideration or seek any additional approval in connection with such use.
Copyright of the image will remain the property of the photographer. However, by entering the Hennessy Hammock contest , you agree to grant Hennessy Hammock Ltd. permission and rights to use the image indefinitely on any page at hennessyhammock.com, on their social media accounts, and in any online advertising or printed materials promoting Hennessy Hammock Ltd.
LIMITATION OF LIABILITY
Hennessy Hammock, its representatives and their respective sponsors, employees or contractors are not responsible for printing or typographical errors in any contest related materials, or for stolen, lost, late, misdirected, damaged, incomplete, or illegible entries. Hennessy Hammock reserves the right to cancel or modify any or all of the contests if fraud or technical failures compromise the integrity of any or all of the contests as determined by Hennessy Hammock in its sole discretion.

CONTACT
FOR ANY ADDITIONAL INFORMATION CONTACT
By email: photocontest@hennessyhammock.com
By Phone: 1-888-539-2930 or 250-539-2930 (Mon-Fri 9-4 PST) in North America, International 250 539 2930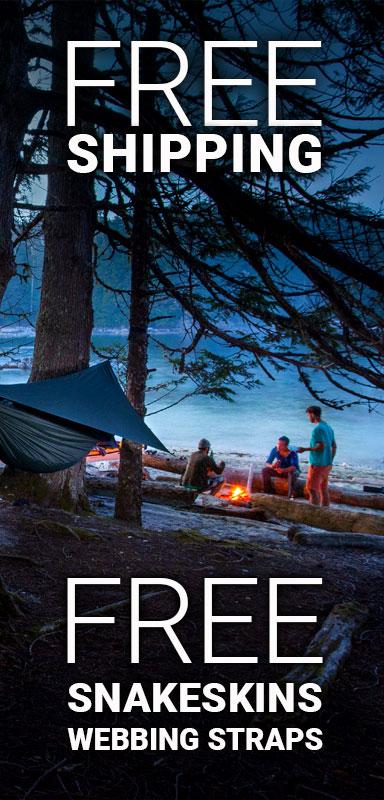 Shop for Gear