Flying for Nature Conservation
Job Description: Anti-poaching pilot.
Aircraft : B407
Location: Chinko, Central African Republic.
EXCERPT: A report from the field by Gaël Le Martin
There is an African saying which goes something like: "if you believe that you are too small to make a difference in this world, you obviously haven't spent a night with a mosquito!". For very long I've been trying to get into the nature conservation scene, it's a very tight world, not many jobs available, with usually a lot of volunteers or meagre salaries.
Why would I want to do that? Well…
If we came down as aliens today, from a different planet our judgement upon the human behaviour regarding the way we treat this earth would probably be pretty harsh… we're hiding ourselves from the obvious truth: we're abusing this planet and all living creatures beyond the point of sustainability.
I work for an NGO called African Parks Network, focusing its efforts on making conservation a sustainable thing, employing locals and when not possible some foreign personnel to bring their expertise, such as pilots for example.
But every day we witness the beauty of nature when we take the time to look up, stop and listen. It's a simple rhythm, up at sunrise, and in bed shortly after sunset.
It's team work, a group effort to keep this vast area protected from poachers and cattle herders from South Sudan.
My job is mostly dropping off and picking up the ranger teams from the inaccessible places.
Every landing is a new spot, sometimes in the open fields, sometimes on river banks or in a meadow in the forest. The novelty keeps it's interesting.
I get to camp out sometimes, if the area is deemed safe for the helicopter, certainly one of my favourite part of the job. It's always such a privilege to be present in areas totally remote and empty of humans!!!
…and a perfect excuse to go hang my hammock in a new superb spot!
One time I had to come and support a scientific survey team busy drifting down the river system for more than a month.
They were discovering with awe the diversity and incredible creatures living in what was previously known as an empty river.
They even renamed it "water world meets Jurassic park!"
- Gaël Le Martin, 2020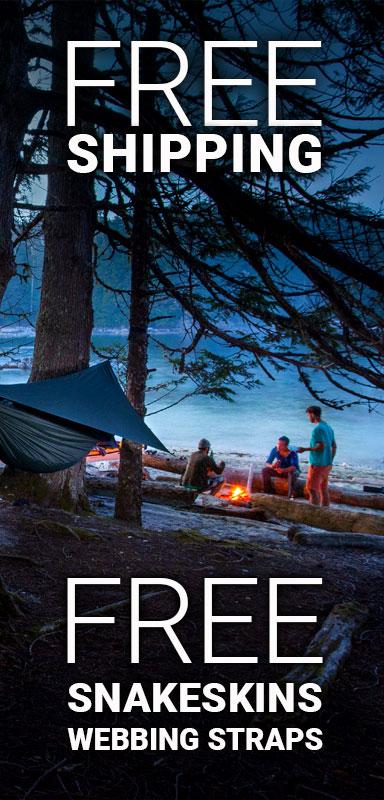 Shop for Gear